The Domino Effect: Solidarity between the Black Lives Matter movement and Asian-Americans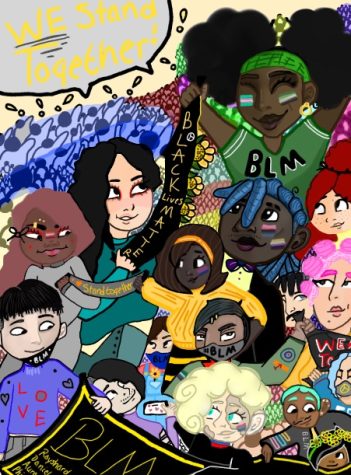 George Floyd, Breonna Taylor, Atatiana Jefferson, Stephon Clark, Botham Jean, Tamir Rice, and Elijah McClain, these people are acknowledged victims of police brutality, yet the list continues. These names have sparked protests and riots in the effort for governmental and cultural change.
People of all ages, races, religions, sexualities, and genders are showing solidarity with the Black Lives Movement. However, the treatment from the Justice System and daily disadvantages towards African Americans, have spoken powerful volumes among minorities, especially Asian-Americans.
Susan Park, a local business owner, is one of many Asian-Americans to aid black communities. She feeds the homeless with weekly homemade meals, because it is her way to support Black Lives Matter.
Asian-Americans have shown other ways to show support to the Black Lives Matter Movement, one way is by joining protests to promote justice and equality for black Americans. As injustice is being challenged and discussed, Asian-Americans are starting to question where they belong in America's racial structure.
Frank Wu, President of Queens College, says that the conflict begins from the choice of claiming to be a person of color, white, or a foreigner.
When stereotypes about Asian-Americans are perpetuated. These stereotypes condition society to disenfranchise other people of color.
Tension between black Americans and Asian-Americans is historical, a notable example of this was at the cost of the life of a black girl named Latasha Harlins. She was killed in 1992, in a Korean store because she was accused of stealing orange juice.
As Susan Park server black communities, many other Asian-Americans are inspired to make a change for Black Lives. Unity between black Americans and Asian-Americans is one step to make the change we all been demanding for years, equality, harmony, and justice.